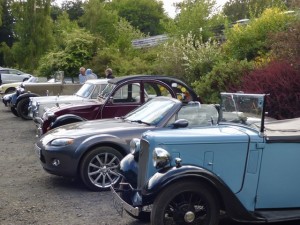 ]
FOR CLUB MEMBERS AND INVITED GUESTS –
Whatever you drive – Club members will want to be out in force for our 50th Anniversary Celebration Run recreating the Northern section of the historic route used 50 years ago. Immediately following this run the group of Scottish enthusiasts who had taken part formed BVAC, a Club that has thrived ever since.
We plan to start in Wooler and drive into Scotland and thence to Kelso where there will be a stop and an official greeting by the Town Provost in the Market Square and a stop for lunch. Later we drive on to Mellerstain House for another brief stop to commemorate the many years of shows held there by the Club. Finally on to Thirlestane Castle to bring us right up to date for a photoshoot to finish and looking forward to the BVAC Classic that will be just two weeks away.
You may wish to add some form of embellishment to your car in honour of the Queen's Platinum Jubilee.
CONFIRMED FINAL ARRANGEMENTS –
Gather from 10.15am in car park of The Tankerville Arms Hotel, Wooler. (Welcome Tea/coffee and a bun)
First Drive-Offs from 11am.
Gathering of cars in Sainsbury's car park on outskirts of Kelso on arrival.
Processional drive-in to Kelso Market Place to arrive 12.30pm.
Park up for lunch break (own arrangements) and viewing of cars.
2.00pm Drive-Off from Kelso following original route to Mellerstain House.
Brief stop for photographs, then drive on to –
Thirlestane Castle for parking up, photoshoot etc; followed by
Bring your Own picnic and joining in any activities that the Castle are running on the day.
END OF RUN.
PLEASE NOTE: There will be a CHARGE of £5 per person taking part, payable at the Tankerville Arms Hotel on arrival on the day. This will cover Wecome Tea/coffee and bun, a Rally plaque and a map booklet with full Run instructions.
If you are intending to join us on this significant event PLEASE EMAIL chrisjbiggs@btinternet.com TO BOOK A PLACE and indicate the vehicle you intend to drive and the number of occupants.
LIMITED TO 50 CARS – GET YOUR BOOKING IN.